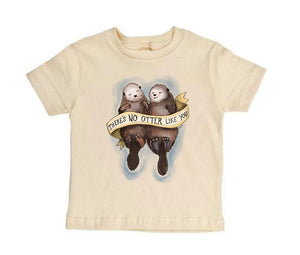 No Otter Like You [Short Sleeved Toddler Tee]
Regular price $28.00 Sale
There's really no otter like you, babe!

The sweetest otter doll is available at www.foxandbabe.com

If you want to purchase the set, short sleeve tee/bodysuit with the doll as a bundle, please head to her site to make this purchase!
These organic cotton children's tees are made from 100% Organic 1 x 1 baby rib. They're so soft and durable so they'll last as your kid grows out of it. Everything from the seed to the finished garment is grown & sewn in the USA from organic cotton free of all pesticides.

USA Made
100% Organic Cotton
Machine Wash & Dry
We use the Direct to Garment printing method with non-toxic, environmentally friendly inks.
*Our products are printed to order. Ships in 1-2 weeks* Please see store policies for more info.